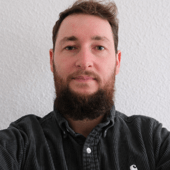 Félix Mil
Senior Software Developer – Software Development
Felix is a data scientist with experience in software development, as well as a background in biotechnology. He is skilled in developing applications and packages using R, and enjoys revealing insights from complex data and designing meaningful data visualizations.
Before joining esqLABS in march 2023, he worked at Stago, first as an In Vitro Diagnostics R&D scientist, later as data analyst for prospective clinical research and finally as a data scientist and software developer in the instrument's R&D department.
He has designed and built numerous R and Python tools to streamline data analysis and reporting processes. Felix has honed his ability to create customized R Shiny applications and dashboards that facilitate collaborators' understanding of the insights within their data. Through its dedication to delivering top-notch design and functionality, Felix has established a reputation as a valuable asset to any data-driven team. In addition to his design work, he has also contributed in defining data pipelines within big data environments using Spark. His expertise in both front-end design and back-end development make him a versatile team player, capable of contributing to projects across the data spectrum.