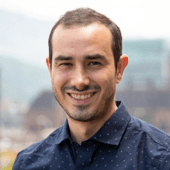 Luis David Jimenez Franco
Consulting & Research
Dr. Luis David Jimenez Franco is is an electronics engineer and medical physicist passionate about applying technical, physical and physiological knowledge to improve people's quality of life. Before joining esqLABS, he co-developed several physiologically-based pharmacokinetic (PBPK) models for radiopharmaceuticals as well as a PBPK-based algorithm which allows for individualised treatment planning in molecular radiotherapy.
Luis is experienced in clinical and pre-clinical trials for radiopharmaceuticals and has extensive knowledge of medical imaging and internal radiation dosimetry.
Luis studied Electronics Engineering at the Universidad Pontificia Bolivariana (Colombia) and completed Master's degrees in Engineering (Universidad EAFIT, Colombia) and Medical Physics (University of Heidelberg, Germany). He received his Ph.D. in Medical Physics under the supervision of Prof. Gerhard Glatting.